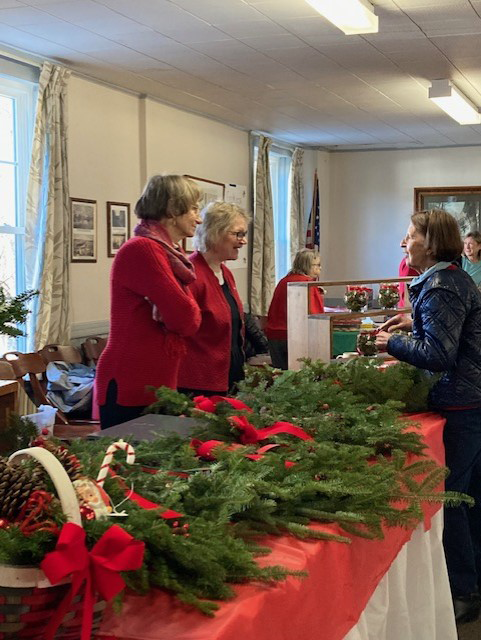 Our hope is that all who gather here are refreshed and find renewed purpose as we experience God's presence in community.
Ministries of Care and Support
At Federated we encourage one another through joys, struggles and life transitions. We stay in touch through cards and calls, give rides and deliver meals. We sit beside one another, and hold one another in prayer through our prayer shawl ministry.
Our Minister is available to support members and friends in individual situations.
Our Hospitality Ministry Team provides receptions for memorial and funeral services and on special occasions.
Small group gatherings open to all in the community are ongoing at Federated. Women meet weekly for coffee and conversation, Evening United ladies group holds rummage sales twice a year and Holly Berry Craft Fair near Christmas bringing together work and laughter. Music programs at Federated offer people of all ages an opportunity to connect and learn, and sometimes gatherings around special activities and crafts happen on short notice.
Nurturing Faith Lifelong
All along life's journey God calls us to grow spiritually and intellectually, and we respond by engaging in study and discussion on a wide variety of topic.
Adult Studies
We gather after worship in the library for forums with guest speakers and for all- community roundtables in our Community House downtown on Main Street. In all learning forums, we strive to create a space that invites questions and encourages respectful conversation, that's unafraid to address difficult topics and lives out what the United Church of Christ banner proclaims: Our faith is 2000 years old, but our thinking is not.
Children's Community
Pre-schoolers and children gather throughout the year to grow in community with their peers, and through crafts, music and story telling explore our seasons and traditions. These gatherings are also opportunities for young parents to ask questions and share ideas about how they might engage their children at home in faith forming activities.
Confirmation
This is a year long journey that has as a different feel for each young person involved. Meetings with the minister and mentors offer a safe space for those between 8th and 10th grade to explore our tradition in context and ask the kinds of questions that allow faith to honestly deepen.
Our Community House
The Community House is a three story building in the center of the town of Marlborough, and since 1927 has been offered to the public as outreach of the Federated Church. It is regularly used by theater groups, volunteer organizations, community meals, and serves as a gathering place in times of life transitions — for weddings, birthdays, memorials. An elevator makes all floors accessible, and solar panels installed in 2019 support our efforts toward environmental healing and well-being.
For rental details: office@federatedchurchmarlborough.org