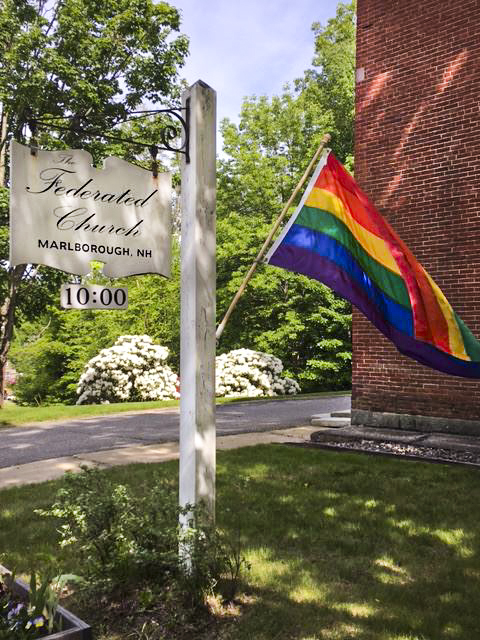 Thank you for visiting!
Wherever you are on your journey you and your questions are welcome and respected here!
Helpful Info
Come as you are! Wear whatever you want, sit where you like. Our greeters are friendly and can answer questions, and will offer you a worship bulletin to guide you through worship.
There are large print bulletins and hearing devices for amplifying sound.
Our church entrance is accessible, there is an elevator lift to all floors, and two accessible bathrooms.
Worshipping with Children
Children are welcome to worship with their families.
There are activity bags and books at the back of the sanctuary.
The area just outside of the back sanctuary doors (the narthex) is one we consider a part of our worship space, and is welcoming space for families with restless children if they prefer.
There is a nursery on the second floor for parents and children who need a quiet space. It's equipped with books and activities for the very young, and from there the worship service can be heard.
Our Mission
Celebrating Community. Honoring Diversity. In Service of All.
We are a progressive Christian congregation seeking to embody the extravagant welcome of God. We share joy and hope in worship, encourage one another in fellowship, nurture growth in mind and spirit, and pursue healing and justice in the world.
As an Open and Affirming congregation of the United Church of Christ, a Reconciling congregation of the United Methodist Church, and a Welcoming congregation of the Unitarian Universalist Association, we affirm all people including gay, lesbian, bisexual, transgendered and queer persons equally worthy of God's love and grace.
As a Creation Justice congregation of the United Church of Christ, we affirm that all life is interconnected and part of a sacred web, and we commit ourselves to the work of healing, preservation and justice as we strive to reduce our negative impact on the environment for the benefit of all current and future inhabitants of this planet. (See environmental justice: nhcucc.org)
Our History
It all began in 1779 when five denominations held church services in the Old Meeting House in the small town of Marlborough. As the town grew, each congregation built its own church, though by the 1920's it became clear that none could support itself alone, that each needed the other to thrive.
Who we are today as the Federated Church of Marlborough carries the heritage of three of these distinct traditions: Congregational, Methodist, Unitarian Universalist. In 1927 board members of each congregation worked on by-laws to form a federation, and in 1929 our union was formally celebrated. In 1941 our common house, our brick church building, was redecorated. A wooden addition was built in 1955 which included a chapel, classrooms and offices. The sanctuary was refurbished in 1966, a new organ was installed in 1971 and completely rebuilt in 2013, the entry was made accessible in 2013, and an elevator lift, making all floors accessible, was installed.
Tradition is surely built into who we are, physically and spiritually, and today as the sole church in Marlborough the spirit of community that brought us together almost 100 years ago remains a resource of vitality and joy as we seek to embody our faith.